Black Sex link hen.
I liked the way these birds looked but they became very aggressive with other birds as they matured. They laid beautiful eggs and were prolific egg layers. But thier temperment was aggressive to other birds & started to be towards kids. So i gave them away. But they were beautiful to look at & i'd say great for a free ranging flock! Not so good for a penned flock, even tho they were very hardy for our NY weather!
BLACK SEX LINK HEN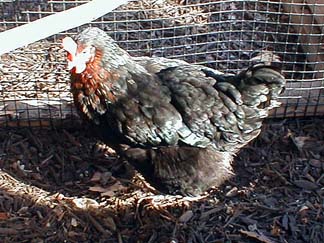 BLACK SEX LINK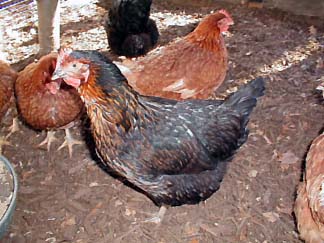 Black Sex link hen standing infront of two Rode Island Reds.
Araucana's
This is a hen and rooster. The rooster became so aggressive that i had to cull him. I still have the hen who lays an olive green egg.
Her temperment is sweet, noisy & entertaining. She has gone broody and was a good mom for other hens eggs, tough to get near when broody. Even with my experiance i needed gloves to check under her!! Tough bird when pravoked, but not aggressive towards people or other birds.
The rooster was aggressive. He would have been good if i had major prop and let the hens free range. But for penned care, he was hard to get around and even attacked thru the wire. He had been hand tamed and for previous owner was sweet. Sometimes happens with hand tamed birds. Risk worth taming tho. Since he lost all fear of humans & was mad to be "moved" he was not good around us or kids, since he even attacked thru the wire pens. Which kids love to hang on when thier looking at birds. I herd from other owners roo's can be "spunky".
You may want to start with Day olds in this breed and hand tame from the start. They may end up non aggressive this way.
Also a very hardy breed for this NY waether.
I just adore this hen!!
ARAUCANA HEN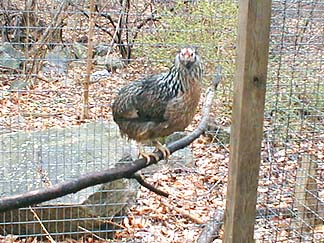 ARAUCANA ROOSTER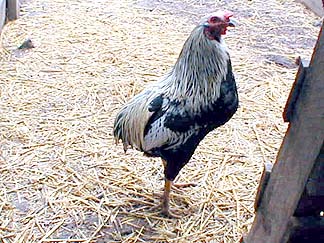 Americana Rooster
This is a sweet breed of bird. I had the roo for a short time after he matured. I Sold him as he had a tendancy to crow all night long. In a residential area it was not a good thing.
I still have his sister hen (will add pic later) & she is very sweet temperment. Both towards humans and other birds. She is a mid sized breed, and she's very hardy. Laying an olive green egg, slightly different tone then my americana hen. She is none threatening and sweet tempered.
She tends to stay in the background doing her own thing but yet part of the flock. Nice breed to start with. Almost tame by nature. I didn't tame her and yet it seems little would be needed to do so with this breed. Very nice quiet personality bird to have around. Also an excellent layer, as hardy a layer as a Rode Island Reds.
AMERICANA ROOSTER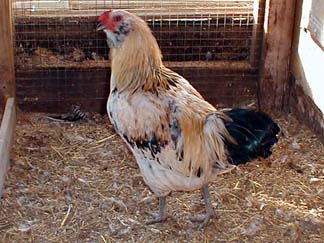 Golden Commet's
These are gorgious birds. From my limited understanding they are cross breeds and do not breed true. They are cross's of White rocks and Rode Island reds (at least my research shows, correct me if i'm wrong). When they breed they will hatch out sexed babies. The males being one breed of thier predecessors and the hens being the other.
They are as sweet as can be. The rooster was pretty but not necessary since they don't breed true, so he was sold. :(
They are two of the sweetest girls i've ever had. They look much like a rode island red & lay like them as well. Only difference to me was temperment and feathering. Feathering on a golden commet is tighter and neater looking then on a Rodie. The rodies i had were also more aggressive to other birds. A Golden commet is not aggressive in any maner, man or fowl. It is a sweet sweet bird. I did not tame these birds either and they act as if they had been hand fed. Just the sweetest things. They are very hardy as well. Weathering rain, snow and cold easily. I love this breed..good one to start out with.
The males are also very pretty to look at & have around, if you don't mind them not breeding true!
Highly recommend to beginner and experianced birders. The girls have never gone broody but lay all year long for me!! They also have personality!
GOLDEN COMMET ROOSTER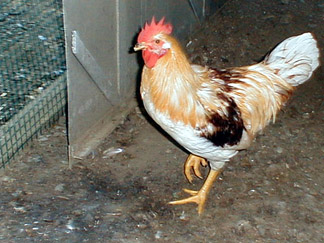 GOLDEN COMMET HEN'S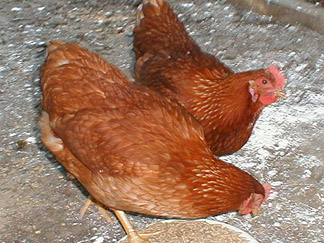 Mottled Cochin Rooster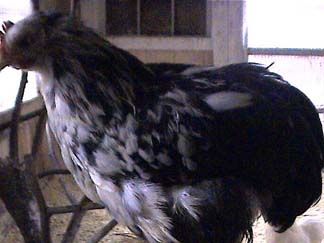 Bantam Mottled Cochin Rooster. I also have two hens and their coloration does vary. Some have more white then black and one has more black then white. All very mild mannered birds. Even tho i did not tame them they are still pretty receptive to handling and not aggressive at all. Sweet birds great for first timers or kids.
BANTAM WHITE COCHIN HEN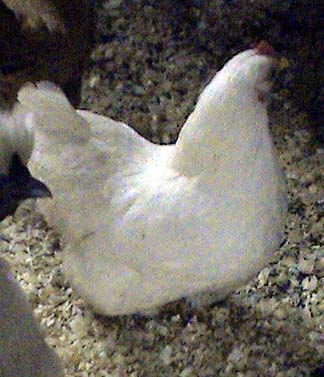 BANTAM WHITE COCHIN ROOSTER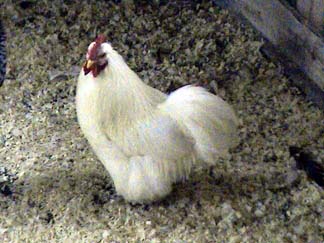 SAME ROO, STARTING TO CROW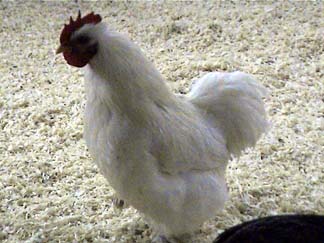 Bantam white cochins
I have since lost the hen to racoons, but the rooster is still here. He is small and cute as a button. But this boy is a bit more aggressive then the mottled rooster. Since they can not get very high he does not do alot of damage to me. But with kids he gets their nose every time. Other then that he's a good rooster and his hen was the sweetest.They were not raised here but she would allow me to pick her up and handle her. Not fond of it but still allowed me to handle her. Thier a good breed and size for beginers and kids. Even the little fiesty guy is still a joy and easy to handle. Nice look to them too.
BANTAM NON-BEARDED WHITE SILKIE HEN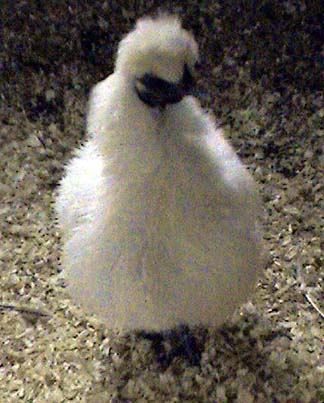 SILKIES ARE THE CUTEST BIRDS. SWEET, MILD MANNERED & GOO D BROODY HENS. A BIT SKIDDISH BUT GREAT!
DOMINIQUE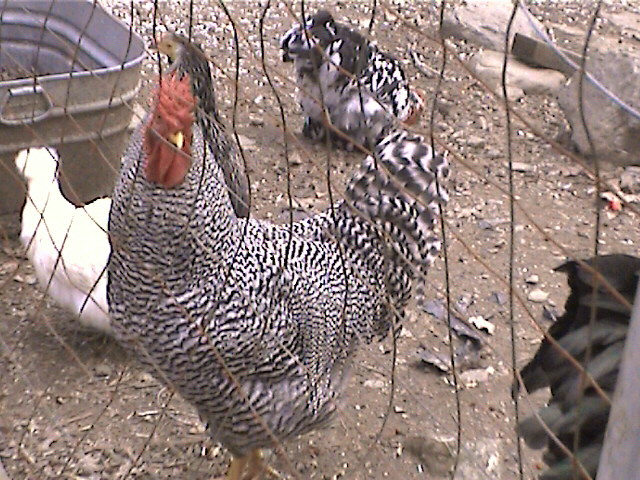 THIS DOMINIQUE GOT QUITE AGGRESSIVE BUT WAS A BEAUTIFUL BIRD. GREAT BREED TO HAVE.
:)
BEARDED BOOTED D'UCCLES
Often reffered to as mille fluers. There is a difference between them and mille fluers. I believe it is the beard. Mille fluers typically don't have a beard. I will update this after i research it in the standard of perfection and edit as needed.
They are mild mannered, when tamed they are so sweet. If not tamed they are still very sweet. I have tamed many (easy to do with this breed) and i have not found any agressive males. I love teh coloring and thier temperment. The best birds you could ever have are D'UCCLES, Just the BEST!!
YOUNG BEARDED BOOTED D'UCCLE ROOSTER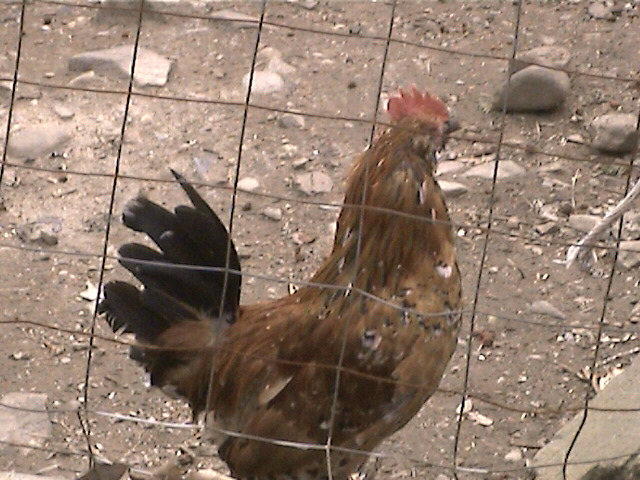 BEARDED BOOTED D'UCCLE HEN