Red Golden Pheasant: Named Handsome
This Pheasants name is Handsome. He was the one that started it all. He does have a crooked toe due to to high humidity in hatch. It is not genetic, i hatched out many of his offspring last season and none had the crooked toes.
He has two females in thier with him and all are quite happy. Thier laying season is pretty short from April to June. .
Sky was one of my males i sold. .
:
Handsome before coloring out, as a juvenile!
Sky & Boco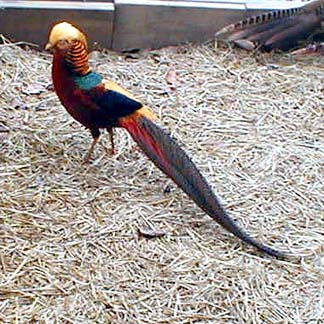 Leroy, the Red Golden rooster No.2

Above is my other Breeding rooster. He is in with two hens and is also one of my Trio's.
He is perfect in all ways..and has bred some beautiful offspring!

Leroy
Leroy
Handsome
Pheasant in the middle of makeing noise!